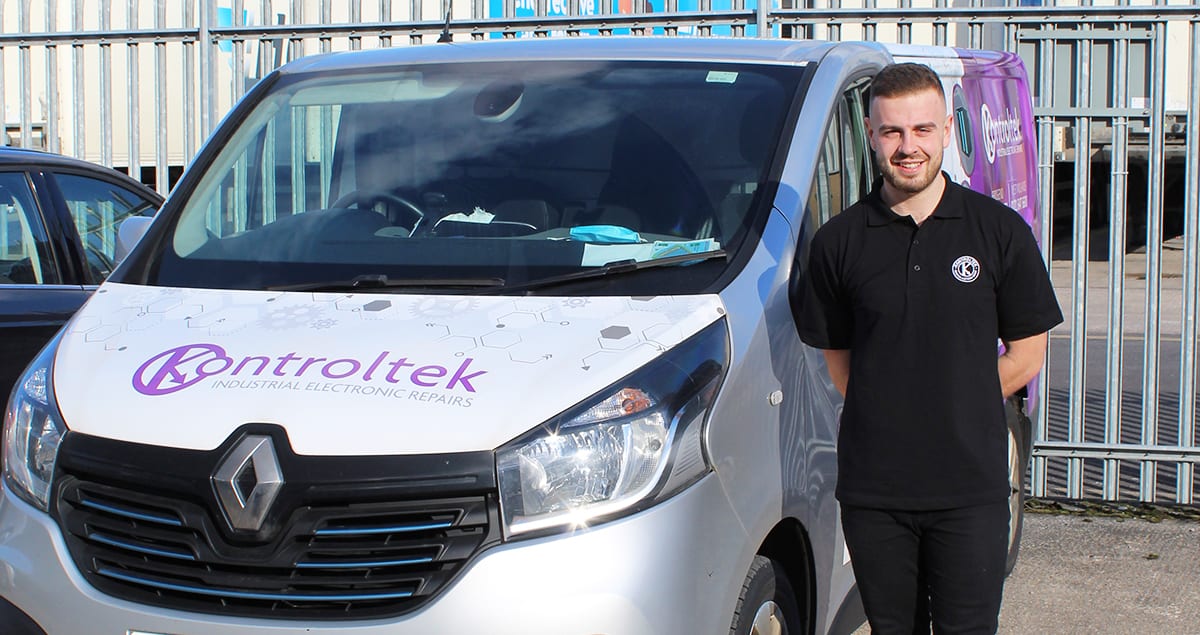 Our New South West Account Manager
Right, Zach, would you like to introduce yourself?
Hi, I'm Zach Taylor and I'll be taking over the South West regions for Kontroltek.
What do you like doing in your spare time?
I love playing sport. Prior to the restrictions coming into place, I would play both Rugby and Football for my local club, Pencoed. Since then, I have started taking up cycling again, both road biking and mountain biking whenever possible. I also enjoy playing Golf in the summer.
Perfect, thanks. Can you go into a bit more detail about yourself?
Although I have only been employed with Kontroltek for a short period, I have known the ins and outs of the company for a lot longer. My mother, Sian Taylor, has worked in the industry over 25 years and was one of the founder employees of Kontroltek and therefore I have picked up so much over the years from her. I remember doing work experience here in the summer of 2016.
I've been watching the company grow from the sidelines and now I'm stepping in.
How have you been spending the past few years before joining Kontroltek?
In 2017, I began a business apprenticeship with a company called Track Training. I completed my apprenticeship with them and continued working there until the end of last year.
After completing the apprenticeship, I began a foundation degree in Business Studies and completed that around the same time. Now I am completing the rest of my degree whilst working at Kontroltek.
I'm sure my understanding of business will be applied in my work every day, helping my colleagues and customers.
What have you been doing for the last six months here?
Well, I've been based in the South Wales workshop. As customers can imagine, the pandemic turned things on its head, even for Kontroltek. So, I've been pitching in here and there when I can.
Mainly, I have been working as a part of the logistics team. This has ranged from collections, packaging, deliveries, ordering and more. It's provided me with a real insight on how the company is run, what the customer's needs are and how the repair journey, if you can call it that, goes.
What responsibilities will your new role entail?
Firstly, it's going to be more sales orientated. The current plan is I'll be spending the first half of my weeks in the office and workshop. A lot of phone calls and Teams meetings with customers, I imagine.
The second half of the week I'll be retaining that logistics aspect of my job, meaning I'll be on the road. So, I'll still be out and about in the South West — meeting customers face-to-face, but from a safe distance. I might be delivering, collecting or touring a factory to see how we can help a new customer coming on board with us.
It's strange to even call it sales, really, because it's more like customer care. I'm going to be overseeing the customer journey for every repair from this region. My aim will be to get every customer a fair price and in return for that, a fast repair and reliable service.
Do you think the logistic skills you've picked up will help you out in this new role?
Yeah, I'm feeling pretty confident. Like I said, I know the industry through family and how Kontroltek runs as a business. The past few months have been building up to this moment.
I know the areas well. The customers, too, even though some won't know me yet. I've handled most of the parts that have come from the South West into our workshop already. So, I understand what a customer wants from us and what we need to do to deliver on that.
Anything you looking forward to?
I love being on the road. The pandemic has kept a lot of us locked up in our homes for over a year now, so to actually meet new people and make connections will be great opportunity.
When do you start?
Next week. I can't wait.