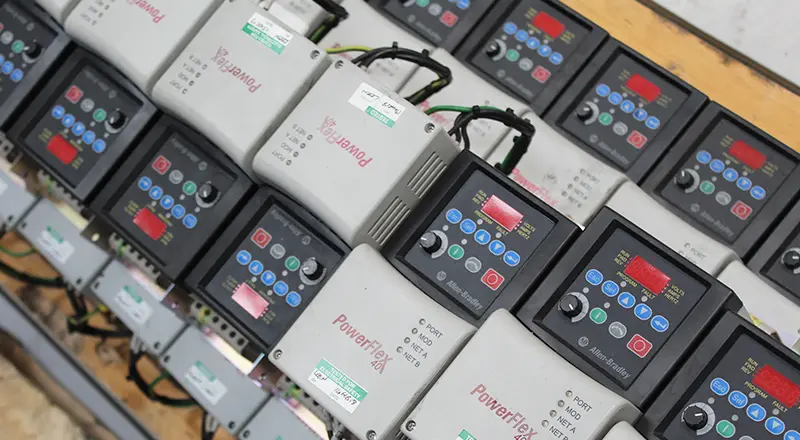 From Collection To Return, How Does It Work?
At Kontroltek, there are few things we pride ourselves on more than our ability to repair drives. We offer Drive Repair for all manufacturers and part numbers, whether they are brand new or obsolete.
Repairing your Drive not only helps the environment by reducing waste, but also costs less than a full unit replacement. If you have a drive that is faulty, or running less efficiently than you would like please get in touch with us. We pride ourselves on being the most efficient, communicative and thorough repair service in the UK.
We'd like to talk about the intensive process we take at Kontroltek for every drive that comes through our factory doors.
1. Booking a Drive Repair
Booking a repair for your Drive couldn't be easier. There are two ways to get in touch. You can
call your local branch
and be put through to a local salesperson, who will arrange a collection for your Drive.
If you don't feel like talking or are not in a rush, you can fill in a form on our website, which we aim to answer on the same day. Try to give us as much detail about your part as possible, as this will help the salesperson who calls you back.

We cover Drives from all brands, like this Parker AC890 1.5kw Drive sent in for repair.
2. Arranging a Collection
When you've connected with us, we will arrange the collection of your Drive so it can be brought back to our factory for diagnosis and repair. If you live in the UK, and are not requesting an emergency repair, this will be free and will be taken on by our own collection drivers or a trusted courier depending on your area.
Your Drive will then be collected and delivered securely to our factory, where it is received by one of our Engineers and booked in for diagnosis.
3. Free Diagnosis & Quote (UK Only)
Based on the information you have given us regarding your faulty Drive, our Engineers will correctly diagnose your part, and quote for repair based on the parts required and time to repair.
They will write up an accurate diagnosis and quotation form, which your salesperson will then relay to you.
4. Give us the "Go Ahead"
If you're happy with your quote, and the diagnosis we've given, give us the go ahead to work our magic. Remember, the quicker you give us confirmation, the quicker we can fix your Drive, test it and return it.
This is our favourite part. With over 1000 years in combined experience in both brand new and obsolete parts, our Industrial Electronic Engineers will repair your part to the highest possible standard.
We aim to use OEM components wherever possible (although this can be difficult with obsolete parts), and clean & seal everything to manufacturer standard.

We hand build brand specific rigs, to test all parts that come into our factory, large or small.
6. Extensive Drive Testing
When your Drive Repair is complete, we then test your part extensively using one of our bespoke, in-house built test rigs. This will push your Drive to its manufacturer recommended limits, and ensure the repair has been completed effectively. If on the rare chance it hasn't, or the more likely chance something else can be done to bolster the repair, it goes back to the bench for adjustment.
We aim to test every part that comes our way as part of our service, as we want to ensure you are completely satisfied with the standard of your repair.
We have a dedicated shipping team, who specialise in packaging up Industrial Electronics for safe transportation. Using the same method we used to collect your part, we will aim to return your part to you as soon as possible. This may differ if we find a quicker option that will mean less downtime for you.
Every successful and tested Drive Repair from Kontroltek gets a 12 month warranty. In the unlikely event that your repair fails during that time, you can return it to us for a second repair free of charge.
Book Your
Drive Repair

Today