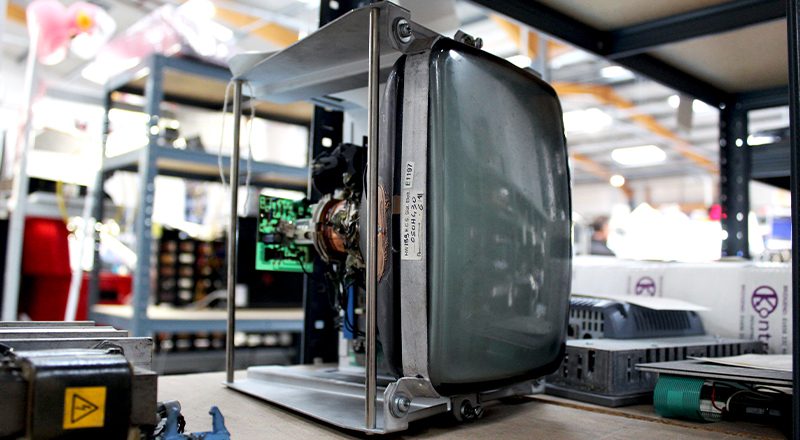 Repair Obsolete Parts with Kontroltek
We recently had an obsolete IRIS CRT Monitor come in for repair at our Bridgend workshop. CRT (Cathode-Ray Tube) Monitors have been around since 1897, and we have seen them used in a variety of different ways, most commonly as television sets. CRT Monitors saw use throughout the 90s, and even the early 2000s, until they were replaced by the often safer LCDs. As a result, they were used as part of the HMI (Human-Machine Interface) setup in Industrial Automation and Electronics at the time.
Due to the rugged reliability of the CRT Monitor, we often see them coming into our workshop, still fully repairable in 2022. Thankfully, due to our engineers' vast experience of obsolete part repairs, many of them having trained and worked when CRTs were commonplace, we are able to fix any issues that arise with these monitors.

This IRIS CRT Monitor needed specific work on the electron gun, that generates the image on-screen.
Parts like this CRT Monitor give us the ability to demonstrate how well we repair obsolete parts. Due to the intricate components within the electron gun, our Engineers must operate delicately, and efficiently to avoid further damage to the part.
Over 1000 years of experience means we can fix almost any part that comes our way, old or new. We take on a range of apprenticeships and Engineers with modern part knowledge to bolster our staff with experience of the obsolete. Together they share knowledge, and as a result there really isn't much that Kontroltek can't repair.

A close up image of the electron gun, showing the damage and need for repair.
Book Your
CRT Monitor Repair

Today