Book your PLC training with Kontroltek today.
COVID-19 measures in place*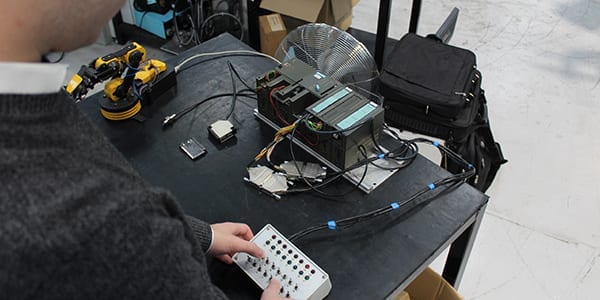 We've created courses that will revolve around you. At Kontroltek, we work with over 1,000 manufacturers every year. Each PLC, machine, engineer and factory are different.
Kontroltek PLC engineers have years of experience in maintenance, programming and repairs. They also have in-depth knowledge of Allen-Bradley, Mitsubishi Electric, Omron and Siemens PLCs.
Whether you book for a day or week, we'll make sure everything that is covered is applicable to your workplace.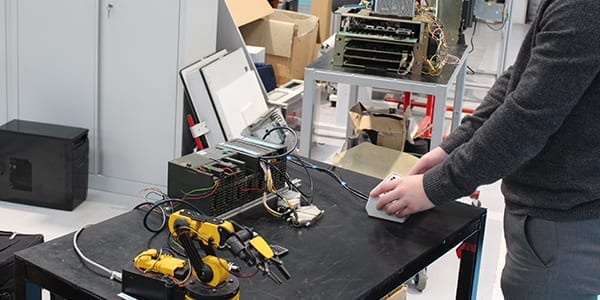 Book PLC Training With Kontroltek
In Level 1, Kontroltek PLC engineers will teach you the basics of PLCs. The course will be tailored around the PLCs you use in your factory. You'll leave with the knowledge of how to do basic programming and fault finding.
In Level 2 and 3, we'll provide more in-depth training to those who enrol. This includes advanced programming, diagnosis and hardware replacement. It'll also explore how you could upgrade the way you manufacture to improve results.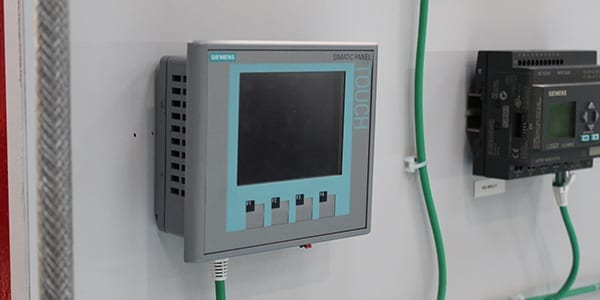 In level 1, we'll teach you the basics of PLCs.
What is a PLC?
What is it used for?
What PLC do you have?
What software and communication cables are needed?
How to get online
Introduction to programming (e.g. reading languages like ladder, STL, etc.)
Generate some test programmes
How to fault find and diagnose
How to replace hardware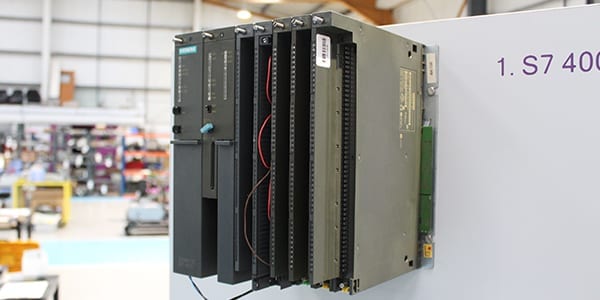 As a repair service, we work with the old, new and obsolete every day. In our workshops and when we go on site, we repair the most common PLCs in use across the manufacturing world.
During your training, we'll specifically cover the branded products you use in your factory. These could include:
Siemens SIMATIC S5
Siemens SIMATIC S7
Allen-Bradley SLC500
Allen-Bradley CompactLogix
Allen-Bradley MicroLogix
Mitsubishi Electric FX Series
Mitsubishi Electric Q Series
Omron Control Systems
You'll leave our workshop feeling confident and prepared to work with the PLCs in your factory.
Feedback from real engineers who have taken our Level 1 PLC Training course.
"Overall very good, was nice to be able to find your way through the screens, the file flowed well and was easy to follow."
– Ryan Jones, Engineer
"Very good training especially for someone with little knowledge/experience. Enjoyed building the programmes and uploading them to the PLC."
– Ioan Webb, Engineer
"Very interesting to get an insight on PLCs and getting hands on with programming"
– Will Thomas, Engineer
"Very good course and will be a big help in work on general PLC problems."
– Stephen Price, Engineer
"Great course – Well organised and very informative. Thanks."
– Sean Edmunds, Engineer
"Very helpful course with lots of practical skills that can be transferred. Very helpful tutors."
– Ffion Killand, Engineer
"Very good course, found it interesting, this will help in my job role. Cheers lads!"
– Mike Cross, Engineer
We Offer PLC Training in Two Locations
Kontroltek Ltd(Head Office)
Unit 1, Horsefair Road
Waterton Industrial Estate,
Bridgend,
CF31 3YN
Kontroltek North & Midlands Office
Unit 21, Maybrook Industrial Est,
Maybrook Road,
Brownhills, Walsall
WS8 7DG
*We currently have measures in place throughout the Kontroltek facilities to keep staff and customers safe from exposure to COVID-19. These measures include one-way entry systems, contact free temperature checks, hand sanitiser stations, 2 metre social distancing and the mandatory use of face masks for visitors.Please note – failure to meet these measures may result in you being refused entry to the building.