• 24/7, 365 days a year
• UK Wide Service
• Get us on-site today
Book Your Site Visit Today
Kontroltek has been supporting businesses on-site for over a decade. The team of on-site engineers are available 24/7, 365 and cover the whole of the UK.
If you've suffered a machine breakdown, need maintenance or simply support on-site, contact us today. Get someone on the way to you instantly or schedule us in during a planned shutdown.
Kontroltek on-site engineers are experts in CNC machines systems, drives and motors, PLC repair and programming, and much more.
Meet Our
On-Site Engineers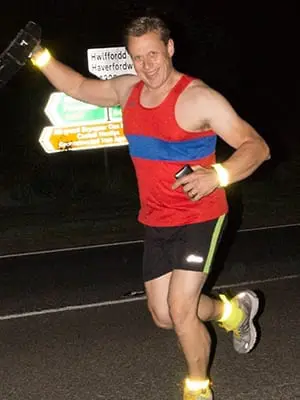 Simon Shepherd
Site Services Manager
Simon is a master of his craft, with years of experience to back it up. He specialises in most CNCs, inverters, servo systems, DC drives, process controls and robotics.
He can also pretty much repair anything at component level too with a certain affinity for servo drives, AC and DC drives, and NC controls.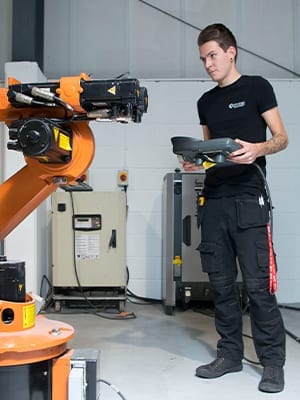 Daniel Williams
On-Site Engineer
Dan joined Kontroltek as a graduate several years ago. He specialises in the repairing and programming of drives, PLCs and robots.
Dan is a software expert. He's extremely familiar with latest series released by the biggest manufacturers.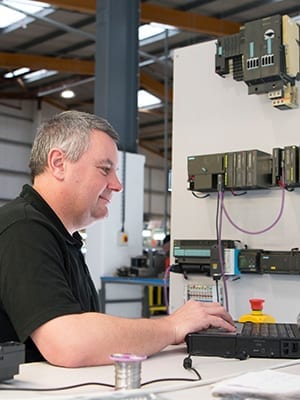 Rob Phillips
On-Site Engineer
Rob is based in our South Wales workshop. He spends half his time working on-site and the other half in the Research & Development Department.
When he isn't building test rigs, he can be found modifying machinery and reprogramming PLCs for customers around the UK.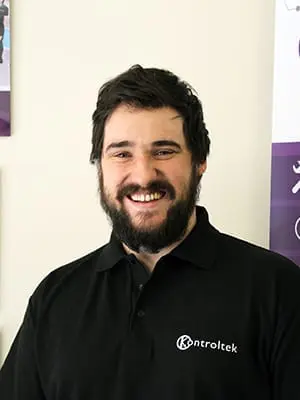 Mike Foster
On-Site Engineer
Mike was a customer of Kontroltek until recently. He has 10+ years of on-site experience in the automotive sector, specialising in power and hydraulic presses.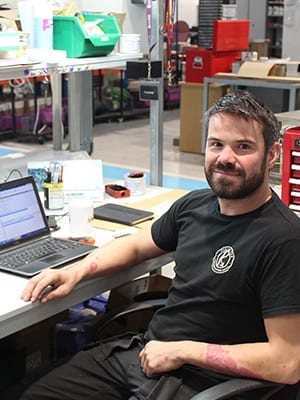 Rob Clement
On-Site Engineer
When we asked Rob what would he like written about him, he said just put down "anything and everything".
Rob is on-site most days, helping a variety of customers get back up and running as soon as possible. No oil spill or small space can stop him from getting the job done.
We're available by phone, email or webchat. Get in touch and a member of the team will organise everything for you — from taking your details to providing an estimated cost.
The nearest and most qualified engineer will be on-site with you soon. From fault finding to repairing, they'll be well equipped to complete the task at hand as fast as possible.
We'll keep you informed every step of the way. Once the job is complete, you'll receive a report so there's full transparency. If you need anything afterwards, just give us a call.
On-Site Support to keepyour business
moving.
Kontroltek believes in being fair, fast and reliable. We work with thousands of manufacturers and understand how much downtime costs. That's why we save you time, money and any unnecessary headaches.
Our on-site support team are well trained and well experienced. They'll find the fault fast and get it repaired as soon as possible. And we offer competitive rates.
The less time it takes us, the less it costs you. Get us on-site today.
Pages related to On-Site Support
Join thousands of other businesses

Takes less than a minute

Guarantee a better service for when you do need a repair
Quickest and easiest way to book

Free collection and quote

Fast turnaround, competitively priced
Join thousands of other businesses

Takes less than a minute

Guarantee a better service for when you do need a repair
Quickest and easiest way to book

Free collection and quote

Fast turnaround, competitively priced
Find your nearest Kontroltek site

Save our contact details, including our emergency numbers

Make any type of enquiry with us
Quickest and easiest way to book

Free collection and quote

Fast turnaround, competitively priced
Join thousands of other businesses

Takes less than a minute

Guarantee a better service for when you do need a repair