Meet the Team: Mike Foster, On-Site Engineer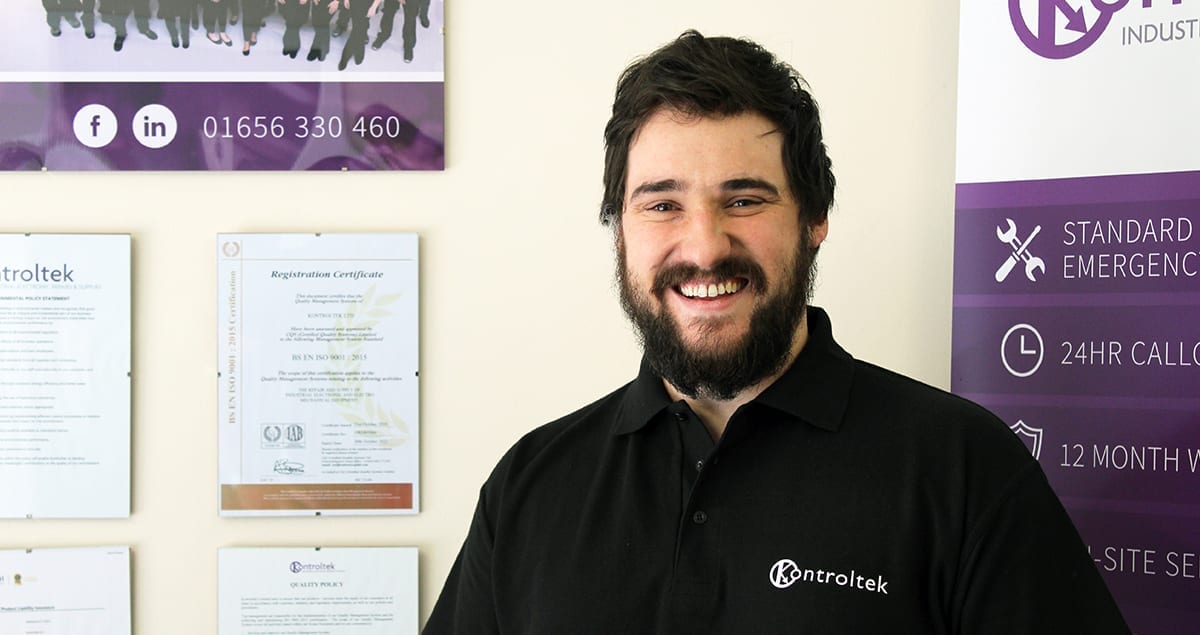 Our Newest On-Site Engineer
Who is Mike?
Before Mike joined Kontroltek as an On-Site Engineer, he was a customer. Living in Birmingham, Mike worked as the Senior Maintenance Technician for Sertec. 
Before joining his previous employer, Mike also worked as an Electrical Engineer at Midland Power Press Services.  
He then went on to join his previous employer in 2013, where he spent the last six years becoming an expert in his field – electrical, electronics and hydraulics engineering. 
Experience as a Customer
At his previous employer's plant, Mike maintained heavy industrial machines for daily use. If something went wrong and they couldn't repair the fault, they would get in touch with the Kontroltek workshop in the Midlands.  
For nearly a decade, Mike had been in regular contact with the Kontroltek team — from Sales and Operations Manager, Lisa Mason, to On-Site Engineering and Technical Manager, Simon Shepherd. He respected and appreciated the way the team worked.  
He had developed a friendly relationship with people who he liked and considered "super smart".
When Simon would attend on-site for a repair, Mike would always make sure he was on the shop floor to meet him. He'd find faults in advance for Simon and then work with him to carry out the repair.  
Mike was maintaining machinery worth millions of pounds. He specialised in power presses for Sertec and if a part inside became faulty, like a drive for example, the unit could cost up to £15,000 to replace. 
"It's not affordable to have a spare for every part… and why have one when Kontroltek consistently turned around repairs in 24 hours off-site or in a few hours on-site?" 
He also said how before working with Kontroltek, he found other repair companies often sent engineers who didn't have true experience of working on these types of machines. 
He further explained even ordering parts, especially larger ones, could take a week to deliver from a supplier. That doesn't work for a company involved in just-in-time manufacturing; that every hour lost due to downtime is thousands of pounds down the drain.  
Joining Kontroltek
The coronavirus outbreak has been difficult for everyone. It has caused businesses to scale back operations or even temporarily close. The former had occurred at Mike's company.  
Being on furlough, Mike saw it as an opportunity and not a setback. He always felt he had been "shoehorned into maintenance", even though he aspired to work in more technical roles.  
Kontroltek was looking to expand its on-site mechanical team into this region. Lisa and Mike began talking about a potential role at the Kontroltek Midlands workshop.  
The automotive sector is one of Britain's biggest, and it's a huge employer in the Midlands. Lisa recognised Mike's experience in this sector as a chance to diverse the on-site team even further.  
It was an easy decision for both parties to make. Mike officially joined the Kontroltek team in early June of 2020.  
Becoming an On-Site Engineer
This isn't something new to him. In his role as an Electrical Engineer, Mike often went on-site surveying power presses for manufacturers. He's got experience in repairing hydraulic presses, changing valves, PLC programming and more.  
So far, he's either been under Andy's supervision in the Midlands workshop or out on-site with Simon. He's enjoyed the "on-hands training" and he's excited to help more customers.  
Already, he's been on-site to meet with a gym equipment manufacturer and learn about their needs as a plant. This customer has been busier than ever after recently taking on a contract to manufacture kettlebells.  
Mike and Simon also carried out an on-site repair for a customer on his second day at Kontroltek. A CNC machine kept randomly stopping when being run by the operator. After 10 minutes, they had found the fault to be one of the emergency relay stops was faulty and needed a direct replacement.  
Meet Mike Yourself
Need an on-site repair? It may be Mike who carries it out for you.
2020 has brought its challenges, but Kontroltek is happy to welcome Mike to the family.
We're available 24/7, 365 on both UK branch phone numbers. You can also email us at [email protected] or speak to an expert on webchat during office hours.
Go to our contact page for more details.